The P-1416 workbench is a model in which you can put a lot of things in a small space. In such cases, it is good to have many storage options for tools to maintain order and aesthetics. With this in mind, we have prepared the P-1416 configuration. Based on a steel structure in a compact size, it will fit into a small workstation or even in a garage. On the other hand, a solid beech top will withstand bad treatment and will allow you to fully focus on your work.
The P-1416 workbench is equipped with two drawers and two cabinets. The former rest on telescopic booms - they move extremely smoothly, extend one hundred percent and can support up to 40 kilograms of load. The cabinets under them will be perfect for larger tools and accessories. It is an excellent choice for both an experienced craftsman and an ambitious amateur. It will fit everywhere, and it is not inferior in functionality and quality to larger stations.
COLOR:
RAL 7016 (dark gray) for the table structure and cabinet frame
RAL 2004 (orange) for cupboard and drawer fronts
dimensions: 700 x 640 x 610 mm (height x width x depth)
equipped with 1 drawer with dimensions 170x570x520 mm (height x width x depth) closed with a lock + 2 keys, equipped with ball slides with full extension
doors with dimensions of 410 × 570 mm (height x width) closed with a lock + 2 keys
the ability to change the direction of door opening
WORKSHOP TABLE P-1416 from the Proffesional series is distinguished by:
a solid, 40 mm thick top made of solid beech wood (finger jointed plank) at a height of 800 mm
guaranteed load capacity of the P-1416 table - 500 kg
drawers equipped with the highest quality telescopic guides with 100% extension and 40 kg load capacity, they have central locking
structure made of steel sections with a thickness of 2 mm
modules are made of 0.8 mm thick sheet metal
all table elements are powder coated
possibility of covering the table top grooved rubber or sheet metal
possibility to change the table configuration according to the customer's needs
The P-1416 workbench can be extended into additional ones accessories increasing its functionality.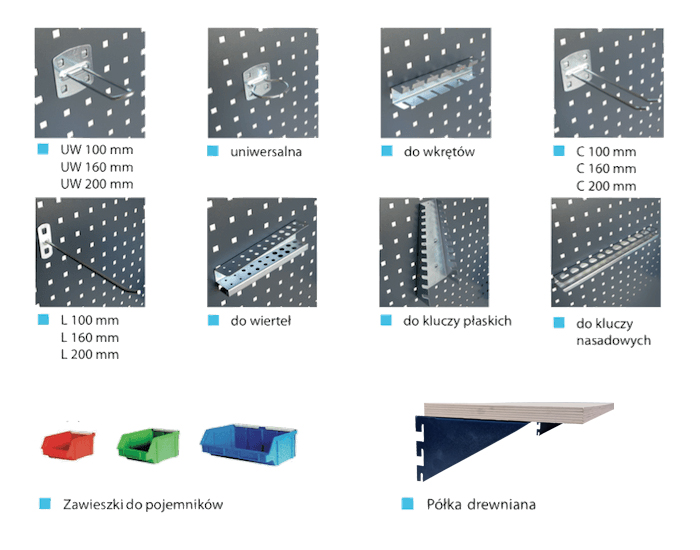 It is possible to change the configuration of the cabinets. Do you want to change the arrangement of modules (cabinets)?
When placing an order, write "Note to the order", or send an e-mail on which side the cabinet is to be mounted.
find out more about workbenches production of Mag-Complex from our article.