The P-1417 workbench has been designed to work with a large number of small tools or parts. Two rows of drawers will effectively solve the problem of a clutter on the countertop, and thanks to the 100% pull-out, access to everything is fabulously easy! Each drawer runs smoothly on ball arms and can carry up to 40 kg. In the larger ones, located at the bottom, a drill or a supply of workshop chemicals will easily fit.
Workbenchesthat we offer are proven designs developed in cooperation with people who use them on a daily basis. The stiffness of the whole is ensured by a steel frame, and interchangeable modules increase its durability. The top is made of a very hard beech stave. All our tables can be adapted to your needs and modified in the future. The P-1417 model is an excellent choice for those who do not have much space, but need to organize a large number of small items.
COLOR:
RAL 7016 (dark gray) for the table structure and cabinet frame
RAL 2004 (orange) for cupboard and drawer fronts
dimensions: 700 x 640 x 610 mm (height x width x depth)
2 drawers with dimensions of 85 x 570 x 520 mm (height x width x depth)
1 drawer with dimensions of 170 x 570 x 520 mm (height x width x depth)
1 drawer, dimensions: 260 x 570 x 520 mm (height x width x depth)
drawers closed with a central lock + 2 keys, equipped with ball slides with full extension
WORKSHOP TABLE P-1417 from the Proffesional series is distinguished by:
a solid, 40 mm thick top made of solid beech wood (finger jointed plank) at a height of 800 mm
guaranteed load capacity of the P-1417 table - 500 kg
drawers equipped with the highest quality telescopic guides with 100% extension and 40 kg load capacity, they have central locking
structure made of steel sections with a thickness of 2 mm
modules are made of 0.8 mm thick sheet metal
all table elements are powder coated
possibility of covering the table top grooved rubber or sheet metal
possibility to change the table configuration according to the customer's needs
The P-1417 workbench can be expanded into additional ones accessories increasing its functionality.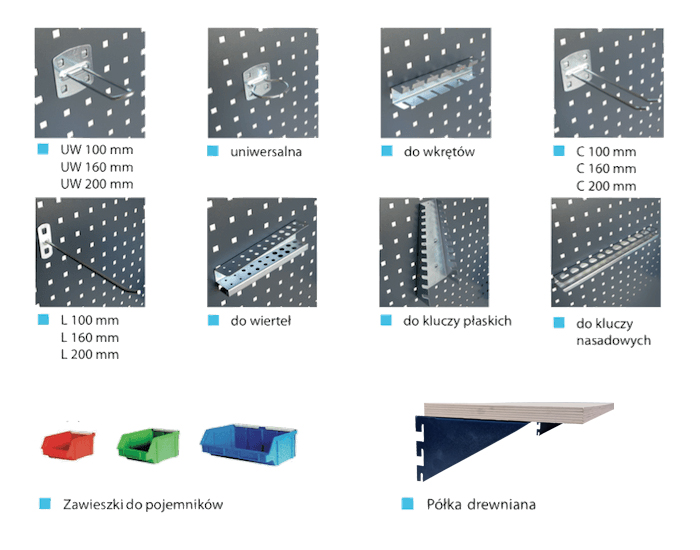 It is possible to change the configuration of the cabinets. Do you want to change the arrangement of modules (cabinets)?
When placing an order, write "Note to the order", or send an e-mail on which side the cabinet is to be mounted.
find out more about workbenches production of Mag-Complex from our article.